December 2019
Ukraine, Kyiv. On December 14, 2019. The ICFM UK Ukraine & ICB Office hosted the Results of the Final VII contest of student scientific and practical works on the topic: "International financial reporting standards: world and national practice, results and prospects". The Institute of Certified Financial Managers ( ICFM & ICB UK), together with our partners – "Chamber of Auditors and Accountants of Ukraine" PABU and "International Academy of Certification of Accountants and Auditors" IACAA, Agency IFRS, is a member of the Organizing Committee and the Jury.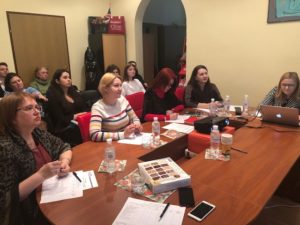 🏆 Congratulations to the Winners – finalists of the VIIth Student Scientific and Practical Competition on the topic "International Financial Reporting Standards: Fundamentals and National Practice, Results and Prospects", for students of youth educational institutions of Ukraine:
1st ​​place – Mamonova Anastasia and Malinovskaya Alena – Competition on the topic "Accounting for cryptocurrencies in accordance with IFRS", Kyiv National Trade and Economic University KNTEU, Kyiv – Head Kostyuchenko Valentina Nikolaevna;
2nd place – Irina Ganus – Competition work on the topic "Implementation of IFRS 9" Financial Instruments "into the accounts receivable accounting system, of Sumy State University, Sumy – Head Plikus Irina Iosifovna;
3rd place – Antonenko Yana – Competition work on the topic "Investment Activities in Reporting on Financial Results", National Technical University "Kharkov Polytechnic Institute", Kharkov – Head Kuznetsova Svetlana Aleksandrovna.
Thank you for participating in the Final. You are all the best and are finalists:
🔺 Ekaterina Lozotskaya – Competition work on the topic "Application of IFRS 16" Fixed Assets in the Activities of Business Entities in Ukraine ", National University of Life and Environmental Sciences of Kiev – Head Kalyuga Evgenia Vasilievna
🔺 Korniychuk Vladislav – Competition work on the topic "Exploration and evaluation of mineral reserves IFRS 6", State University "Zhytomyr Polytechnic", Zhytomyr – Head Chizhevskaya Lyudmila Vitalevna;
🔺 Kurmaz Karina – – Competition work on the topic "IFRS for Small and Medium-Sized Businesses: Implementation in Ukraine", Central Ukrainian National Technical University TNTU, Kropyvnytskyi – Head Smirnova Irina Vladimirovna.
All nominees of the Final Competition received a Certificate of Participation; valuable gifts and prizes from the organizers: an annual subscription to the journal "Auditor of Ukraine"; Certificates for participation in training programs with Dip IFRS ICFM UK; branded umbrellas, watches and backpacks; Certificates for distance learning and participation in webinars with IACAA.
Winners of the 1st place received Certificates for participation in examinations of ICFM UK programs to receive an international diploma; proposed cooperation and internships in companies; writing articles in specialized publications; membership and participation in professional organizations; as well as professional printed products and sweets.
The leaders of the participating nominees, members of the Jury were presented with gifts from the organizers of the Competition – International Academy of Certification of Accountants and Auditors, PABU, ICFM UK Ukraine & ICB.
Organizers and Partners of the Competition: IACAA & PABU & Agency IFRS & ICFM UK Ukraine & ICB.
Thanks to all participants, partners, support groups, leaders of the contestants, nominees, organizers of the Competition and members of the Jury: Olena Kharlamova, Irina Nazarbayeva, Alla Kiyan, Lyudmila Novichenko, Natalya Yablonskaya, Helen Khorikova.
We wish everyone further professional heights and development, putting their knowledge into practice! A wonderful summary for young professionals and entry into the new 2020 with new successes!
The goal of the VІІ Student Scientific and Practical Competition is to intensify the scientific and educational activities of student youth, attract talented students to the professional community, and promote the employment of gifted graduates.
For whom: students of III-VI courses of Ukrainian Universities.
🔺 Direction of scientific and practical research:
☑ Practice of implementation of IFRS in Ukraine: experience and problematic issues.
☑ IFRS reporting: accounting, analytical and methodological support.
☑ IFRS for small and medium-sized businesses: implementation in Ukraine.
☑ Implementation of IFRS in the state corporate sector of the economy.
☑ The role of IFRS in the development of the financial services market.