Сайт работает в тестовом режиме. Переход на архивную версию: www.icfm.org.ua
News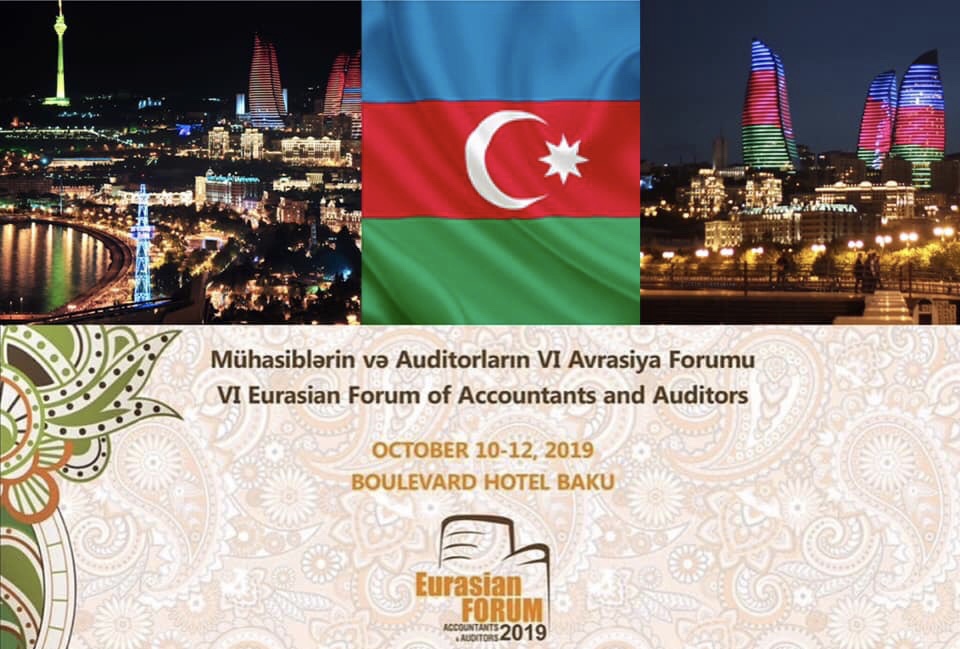 August – October 2019
Azerbaijan. Baku. We invite ICFM UK Ukraine & ICB & APFM / ICFM Azerbaijan, Baku, October 10 -12, 2019. The VI and Eurasian Accountants and Auditors Forum will take place, featuring influential organizations from Europe and Asia. The traditions and hospitality continue!
We form a delegation and invite representatives from Ukraine to participate. The beginning of the history of the 1st Forum goes back to 2007, representatives of ICFM UK Ukraine repeatedly participated in the events of our partners in Azerbaijan. These are always pleasant memories and impressions, hospitality and culture, traditions, customs and cuisine, the beauty and nature of Azerbaijan are truly impressive. And how many friends and partners you can find there. Don't miss out! Follow the announcement of the Forum: what countries – participants, speakers, special guests, events, and what other pleasant surprises and impressions await you from the event organizers!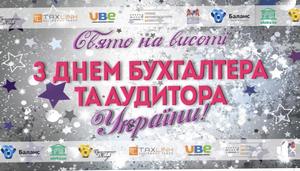 July 12 – July 16, 2019
Ukraine – Kyiv, July 12. ICFM UK Ukraine & ICB & UBE & Balance and Partners: Accountant and Auditor's Day of Ukraine: The Start At Height! It was a real Holiday at the Height: Incredible and ambitious event: greetings and letters for accountants, auditors and financiers, from the state bodies of Ukraine: Prime Minister of Ukraine, Ministry of Finance of Ukraine, State Institution "Public Oversight Board" – Lyudmila Gaponenko's congratulations, National Securities and Stock Market Commission for Ukraine – Oksana Sakhnatskaya's congratulations, And many others from the organizers of the holiday: Company Group "Balance" – Apolon Pozov, ICFM UK Ukraine & ICB & ICB Global – Olena Khorikova and Yuri Navruzov, UBE and Uteka – Svetlana Pozova and Irina Khrushch, Business Automation Union – Vadim Mazur, from Audit Chamber of Ukraine – Dmytro Sushko, MGI PSP Audit, TAX Linx.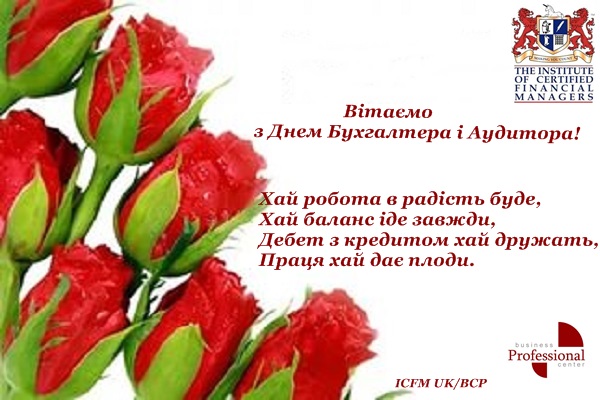 16 july 2019
Ukraine, 16 July 2019, ICFM UK Ukraine & ICB & BCP and all partners ICB Global Congratulations Day account & auditory Ukraine. Happiness & Development & Success and peace! Щирі вітання усім колегам та партнерам! Зі святом Дня бухгалтера та аудитора України! Мира, щастя, достатку та процвітання, затишку та підтримки родини, примноження статків та фінансового задоволення ! Ви найкращі у своїй професії!
Щиро Ваш ICFM UK Ukraine & ICB & Business Center Professional and all partners ICFM UK Ukraine
Frequently Asked Questions
How and where can I get the ICFM UK training?
You can contact the accredited training centers in Ukraine
What language are used to teach, what study materials do they provide?
The programs are developed by leading experts of the UK and Europe. They meet the highest international standards, using the European Education Method and the International Education Standard of the International Federation of Accountants (IFAC). They correspond to the present-day and future business requirements. All the materials are translated and adapted by professionals in the financial sphere, IFRS, IAS, MCA, internal and external auditors, specialists in accounting, management accounting and management. Each module of the program consists of 72 study hours.
Training and consultations are given in Ukrainian and Russian languages, using multimedia technology, teaching materials: presentations, manuals and practical cases (task book/ answer keys), sample tasks for exams, additional literature, CD; lunches, coffee – breaks, stationery, "Briefcase for the Participant."
Do I have to pass all ICFM qualification examinations at once or can I complete the training and pass the exam for only one module which interests me?
Yes, it is possible to pass only one exam from the entire line. But if you want to get qualification, you must pass all the exams according to the qualifying examination program.
What is the format and conditions for a successful pass of ICFM qualification exams?
Examinations are held in classrooms with the participation of independent supervisors, in the "closed-book" format. Examination time: 4 hours.
PIA exam: examination time 2 hours; CPIA exam: examination time 3 hours. Examinations tasks are given in Ukrainian and Russian languages.
Read more
How many points do I need to pass the ICFM exam?
The format of each examination module consists of: a written solution of 20 tests (40 points) and three practical tasks (60 points). The passing score is 65 points. "Professional Internal Auditor", PIA – written solution of 50 tests (100 points). The passing score is 64. "Certified Professional Internal Auditor", CPIA: a written solution of 35 tests (70 points) and three practical tasks (30 points). The passing score is 70 points. Read more
What document do I get after successful passing the ICFM exam?
After having passed the exam, you will get internationally recognized Diploma Dip ICFM UK (in English language).
What are the requirements for ICFM applicants?
Requirements for applicants and candidates. Provision on ICFM certification. Read more
Is it possible to retake the exam for ICFM diploma?
An ICFM student has the right to retake the exam. Re-examination is to be agreed with ICFM representatives.
What do I acquire together with studies and Diploma?
Read more
Together with your training and ICFM UK Diploma you will get: special knowledge in the field of financial management and management; skills and abilities to build an integrated and effective management system within the strategy and objectives of your company/enterprise; application of practical aspects of financial management, practice of financial flows' management, budgeting and accounting management, strategic management and personnel management, financial reporting and taxation, legal aspects; IFRS implication, internal audit, a set of practical tools for the development and optimization of management accounting systems, financial planning and budgeting, management of current assets. You will get priceless skills in identifying and analyzing of risks in the investment, financial and management decisions' process; get a set of practical tools, as well as universal templates for implementation. You will be able to Increase your personal manager's efficiency and build an efficiently functioning service/department of your company/enterprise; systematize existing knowledge and acquire skills; understand the place of risk management in the management system. You will get knowledge of how to manage risks in the decision-making process and implement business processes.
What are my benefits and opportunities with ICFM?
Professional international certificates and diplomas is one of the best ways to upgrade your professional level and skills which leads to successful career development. You get an opportunity to demonstrate to the employer your professional competence. We provide our graduates with recommendations and offer employment assistance. International diploma is your today's reality!
Read more
Our partners